It was finally delivered today and I couldn't wait to check it out! My first reaction to the box size was Ēhmm this is it?Ē But it doesn't have to be large, I mean it is not a 20" monitor!
I never really wanted Live View on my camera. But I do know the limitations of not having it. Some low and high angle shots are quite hard or in some cases impossible to pull off without Live View. Kind of by accident I ran into the Zigview S2, which is basically a camera that looks trough your viewfinder and displays this on a LCD. It is however much more then just a Live View option for cameras without Live View!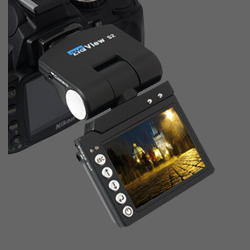 > Introduction
- Design and Usage
- Motion detection, Timer and Bulb
- Samples, Conclusion and Comments
Viewfinder VS Live View!
Photography without a LCD screen when using DSLRís is still quite common, looking trough the viewfinder is in some cases a much better option then using the LCD. Macro work and when the sun is very bright for instance.
As a result, a lot of the high-end DSLR models are still without Live View. My reason for choosing Sonyís Alpha 200 over itís buddies was because I did not want Live View draining my battery.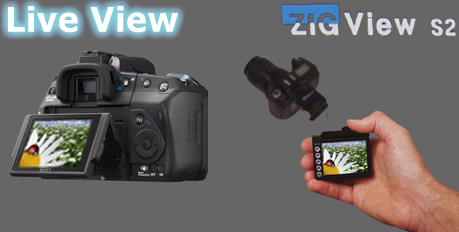 Iíve heard itís not that big of a problem though, but Iíd just rather have all my battery power reserved for photography. Also the extra cost to get Live View was not worth it, for me at least. Besides in some conditions like bright sunlight, Live View LCDís still have a lot of glare on them.
Zigview S2 Options
With that said, youíre probably wondering what the hell Iím doing with the Zigview S2.
Well let me say the following:
The Zigview S2 can be detached so you can view the screen, while shielding it from the sun and keeping the camera on target. Another thing is that you donít actually have to be near the camera, if you get the extension cable. This way you can still see what your camera sees, while you are somewhere else with the Zigview S2 screen.
It is also much more then just Live View, with its own battery and detach-ability! Other features are that it works as a
remote shutter release
, has
motion detection capabilities
to catch that squirrel who keeps stealing your nuts, an
interval timer
for those awesome time-lapse videos and has a
long-exposure (bulb)
setting using a pre-set exposure time or manually.
All of this in one small bundle makes for a very nice piece of kit!
Zigview S2 Specifications
Sensor: 270,000 pixel CCD
Screen: 2.5" TFT colour LED, 230,000 pixel
Video standard: PAL, NTSC
Battery: 3.6 V, 1,100 mAh, Li-ion, exchangeable
Operating time: approx. 2 hours at full charge
Mains adapter: 5V DC
Size: approx. 67 x 21 x 110 mm (2.6 x 0.8 x 4.3 in.)
Supplied with viewfinder adapter, 1.45 m (57 in.) transceiver cable, 1.5 m (59 in.) video cable, release cable, rechargeable battery, mains adapter/charger, pouch and manual.
There are three Zigview S2 bundles called S2A, S2B and S2C. I had to order the S2B bundle, because I have a Sony A200. It depends on your camera model, which one you should get. Hereís a
Zigview S2 compatibility list
and the
Zigview S2 bundles
Keep in mind that the Eyepiece adapter IP200M is also compatible with the Sony A200 (even if it isnít listed as such). All the Sony Alpha models have the same viewfinder, except the Sony A900 and probably the newer A230, A330, A380, A500, A550 and A850.
What is in the box!
When you open the box it is kind-off daunting to see all of these components, but once you separate the stuff you actually need and put the rest back in the box. Itís not bad at all:
- Four small screws and a viewfinder adapter (for your specific camera)
- The Zigview S2 incl. the Sensor Head
- The battery and charger
- Transceiver cable (to detach the monitor from Sensor Head for remote viewing)
- Remote shutter release cable (also for your specific camera)
- Video-out cable (which you donít really need at this point)
- A screwdriver
- A manual (mine was in German, which wasn't a problem for me at least)
- A soft black pouch to keep it in
To get it connected to the viewfinder of your camera, all that has to be done is simply get the viewfinder adapter suited for you camera and screw it onto the Sensor head by using 4 small screws.
Once you connect the camera-out connector to your DSLRís shutter release connection port, it ready for use. You still have to calibrate the field of view of the Zigview S2ís camera and fiddle around with the cameraís viewfinder
[I]dioptrie
setting, so the AF points are in focus on the screen. But once that is done, you can use it.